I am frequently receiving documents as attachments to emails or via a link to a secure online cloud-space.
For each hearing that I attend at the Family Court of Western Australia before a Judge or Magistrate for argument, I prefer to work from a paper brief.
You are welcome to provide me with documents electronically and request that I organise my own printing of the brief, or you may elect to provide me with a paper brief.
I generally do not charge for the occasional document being printed and placed on the brief if it is a small update. If every document is to be provided electronically and I am to print the entire brief, it is more cost effective to outsource the printing and binding of those documents.
Below are some notes which will assist you to brief me electronically. Please contact me if you wish to discuss any aspect of electronic briefing.
If I do not receive documents which are individually created and named (e.g. a series of scanned documents containing only the automatic name allocated by your photocopier!), I will ask my personal assistant to attend to the proper construction of the electronic and paper brief. The costs of my administrator will be passed on as a disbursement cost. Accordingly, notes of likely fees and charges are also detailed below.
File naming conventions
For all documents created on any file, I prefix the file name with the date in reverse order (YYYY.MM.DD).
The date should refer to the date of the document; that is the date that a court document was filed (or signed if unsealed); the date of the letter or correspondence; or for working documents the date that the document was created.
I do not require a rigid adherence to any particular form of naming convention. The table over the page provides some examples and guidelines. The key requirement for an electronic brief is that you follow the date prefix as described herein and that the description is otherwise one which is easily understood.
Name elements

Example

Description of need or use

Date

2019.11.24 -

24th November 2019

Client

2019.11.24 - Smith




Party identifier

2019.11.24 – Smith - H

Party identifier might be:

- H - (Husband)

- W - (Wife)

- M - (Mother)

- F - (Father)

- A - (Applicant)

- R - (Respondent)

- TP - (Third Party)

- MGM - (maternal grandmother)

Description

F1

I don't wish to be overly prescriptive about a file name. Below are some examples:

- F1 - [Form 1 Initiating Application]

- F1A - [Form 1A Response to Initiating Application]

- F13 - [Form 13 Financial Statement]

- F8 - [Form 8 Notice of Address for Service]

- F4 - [Form 4 Notice of Risk or Abuse]

- Aff - [Affidavit]

- CIA - [Case Information Affidavit]

- Let - L&R to DD [Letter from Lander & Rogers to Dwyer Durack]
I stress again the above are examples and the list is not intended to be exhaustive.
Below is a (redacted) example of a relatively short brief of Court documents, which largely follows the above naming convention.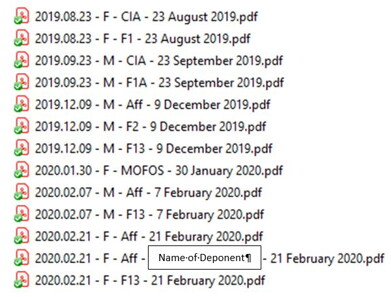 Folder Structure
Where the brief is large – for example a brief for trial - the electronic documents should be organised into folders, in a way similar to how you would organise a paper brief into separate 'tabs' or folders.
I do not have any specific requirements for how many folders are used or what they are named. However, the following is an example of a structure that might be used.
1. Filed Court Documents
2. Submissions
3. Transcripts
4. Court orders
5. Offers
6. Costs Notices
7. Expert reports
8. Husband's/Father's disclosure
9. Wife's/Mother's Disclosure
10. Key Correspondence (offers etc)
11. Memoranda to counsel
Delivery of the Brief
Unless there are less than 5 or so documents, an electronic brief should not be sent by email. It is far too easy to miss an email and therefore miss potentially important documents.
If emailing of an electronic brief cannot be avoided (for example due to urgency), we MUST ensure that it is quickly placed in a shared cloud storage space and ensure that nothing has been missed.
Wherever possible, an electronic brief should be delivered either via a cloud storage provider, such as Dropbox or via the delivery of a physical USB thumb drive.
Discovery / Disclosure Documents
Many firms are now choosing to store discovery documents / disclosure documents electronically. I prefer to receive those documents in one of two ways:
each document as a PDF named in the same manner in which it appears in the list of documents; or
all documents in a single PDF binder, with each document bookmarked in adobe PDF using the name or number of the document in the disclosure list.
Updating the Brief
If we are using a cloud storage service, then updating the brief is as simple as adding documents to the folders. When an update is delivered this way, please send an email to advise that the folder has been updated and with a brief description of what has been added.
If you wish to send documents to add to the brief, then please attach them to an email with the subject "Brief Update - …….". If more than one email is required, then the updates should probably be provided by USB or cloud storage to avoid the problems referred to above.
Fees for construction of an electronic brief
If I am provided with a large number of documents in electronic format which have been named according to the guidelines above, I am able to arrange for my personal assistant to manage the printing and binding of documents. The fees associated with printing and binding will be charged on a disbursement only basis.
That is, no additional fees will be charged on to you or your client if I organise the printing and management of paper files. You will receive a charge for the cost that I must pay to a third-party provider.
If I receive a document with an automatically generated name from your scanning device (e.g. KonicaMinolta_8763478634786.pdf) I will arrange for it to be re-named in accordance with the naming conventions above. If I receive multiple documents in one scanned .pdf, I will arrange for the .pdf to be saved in editable format, split and re-named into separate documents for the electronic brief.
I am charged $50.00 per hour for management of electronic documents. The fees for printing and binding an electronic brief will depend on the size of the brief. The maximum cost per page for printing is $0.20 cents.
You are of course entitled to manage your own provision of paper briefs and if you prefer to do so, please ensure that you opt out of the management of printing or administering electronic briefs by me or my personal assistant.
Examples of fees
Brief provided on USB stick/via secure cloud sharing
The brief will be forwarded to a third party provider for printing and binding and a quote obtained in advance.
Printing (depends on volume)........................................................................... $0.08 - 0.20 per page
Numbered dividers (pack 1 to 31)............................................................................... $5.61 each
J. Burrows Insert Binder A4 2 D-Ring 50mm white....................................................... $7.00 each
Documents provided via email
If you send an individual document of less than 10 pages, appropriately named, I will simply save it to my files and print at my chambers. Generally I will not charge for an occasional document being provided for the brief updating to be done by me.
Below is an example only; not a quote
Receive email with 5 .pdfs that are un-named and which contain multiple documents, over 120 pages per document:
Save documents in splitable .pdf format...................................................... $75.00
Split and re-name documents per naming conventions above...................... $75.00
Printing Disbursement (120 pages x 5 = 600 pages)..................................... $52.80
A4 ring binder............................................................................................... $5.00
Set up documents in folder, with appropriate dividers................................. $75.00
Total admin, printing and binding fee above.............................................. $282.80